Meet Our Leaders

As a church body,
we are committed to Love!
Two things caught my eye that day in Washington State as I sat at my desk. First was the mission statement of a small church in Colorado searching for a new pastor: "Journeying Together To Know Christ's Love and To Make Christ Known". The second was the name of a pastor/ mentor of mine who was one of the church "references". I immediately called him and said, "Is this church really who they say they are?... because they sound incredible!".

That church was Eagle River Presbyterian Church and they were as awesome as their vision said they were! 17 years ago I was honored to be called to shepherd this incredible and audacious group of God's people. They had taken bold and faithful steps to relocate, build a new building, and revitalize under excellent pastoral leadership from the former pastor. My wife Barbara (who teaches Spanish) moved our three boys to Eagle, CO and the journey began. Our daughter soon balanced out our family, and the journey became that much better.

What I love most about our church family is how we have been able to stay focused on our mission and values of "Knowing Christ" and "Loving People" as we have grown and matured through the years. I also love being a long term pastor in a small community who has been able to share in the faith journeys of so many great people. I love Jesus. I love preaching. I love praying with people in their mountain top highs and praying in tears with them in the tough losses of life. I love how this church family extends itself out into this community as Christ's ambassadors.

Our "family nest" is almost empty now. But two things continue to fill me here: "Journeying Together to Know Christ's Love and to Make Him know" and the incredible congregation that I get to do that with every day.
Executive Assistant
to the Head Pastor || Membership &
Marketing Elder
I moved to Eagle-Vail 11 years ago with my husband, Paul and our two children, Joe & Lainey. I am an avid hiker, cross country skier and snowboarder. I experience the magnificence of God when I'm in nature! And I experience the LOVE of God through my ERPC Church Family! I've been working & serving at ERPC for the past 8+ years. Both of my kids went through the ERPC Youth Confirmation Program and at that same time, my husband & I (also) became official Members of ERPC. I love being a part of this rich and diverse community! I have friends between the ages of 3 and 93 ! (I don't have this age-diversity in any of my other social groups! And my ERPC friends- of ALL ages- teach me something new or give me a fresh insight every time we talk!). I've participated in many different bible studies & Adult Sunday School classes and as a result, my faith in Jesus has definitely been challenged! And also strengthened!! I'm a relentless Seeker of Truth and I love telling people about the Holy Spirit's AWESOME WISDOM & ABUNDANT LOVE ~ which has given me the gift of peace & freedom!
It continues to be a Journey, that's for sure!!
Director of Youth, Family & Small Groups Ministries
I joined the ERPC staff in 2017, and am excited to be here while working on my MDiv at Fuller Seminary. I enjoy how at ERPC we intentionally strive to discern how God is moving in our lives and community, and how we can come alongside our valley to dream, work, and serve together. Living in the mountains and working at ERPC fill each day with a sense of wonder, reflection, and adventure. Philippines 3:20 and Ephesians 2:8-10 are significant verses in my life, as the passages calls us into a journey filled with adventures with God.

Director of Music
Ministries
Don Watson started making music
at the base of a ski hill in 1963 and never stopped. Now in his 58th consecutive ski season, Don continues his career performing for our visitors and representing our town around
the world.
Don came to the Vail Valley in from New York in 1980 after performing at the winter olympics in Lake Placid. He now lives in Singletree with his long time partner Debra Swain, their golden retreiver Lucy and Bella the cat.
Don has three wonderful children and two grand kids.
As the "Artist in Residence" at Vail Mountain School, Don taught guitar, percussion, voice, theater and speech. He is a skier, sailor, camper, fisherman, golfer, sporting-clays enthusiast and fencing master. He coached the Battle Mountain High School fencing club to a bronze medal at the 2012 National High School Championship and in 2018, he finished his personal best on the podium at the 2018 USFA National Championship.
"I look forward to including everyone who has enthusiasm for our program.
I want to help us all make our own JOYFUL NOISE ! "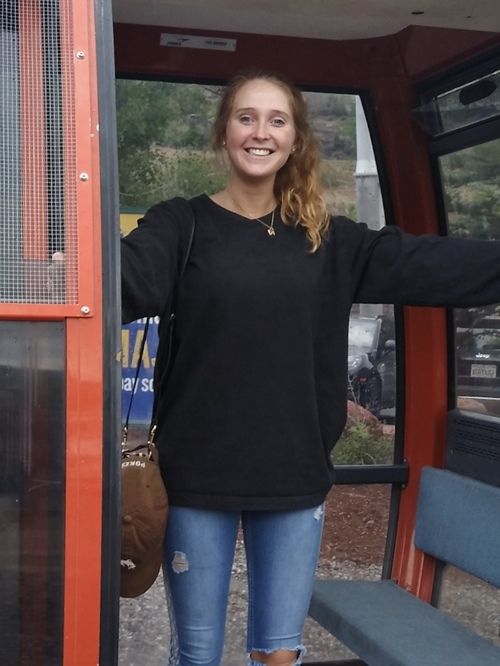 Director of
Children's Ministry

Jaclyn is currently a student at Palm Beach Atlantic University studying psychology. She loves skiing the mountains, the beach, and cooking vegan meals. Growing up with 3 brothers and 2 sisters, family has become one of the most important aspects of her life. She loves to encourage, and build others up through listening to what others are going through. She's excited about her position in Student Ministries and truly has faith in what the Lord will do at ERPC. She can't wait to see how God will lead this church and program through her, and is so excited to build community through children ministries.

So much of what I do in the Eagle River Valley is solitary: fly-fishing, hiking, gardening, driving to golf or pickle ball games. But at ERPC I'm a member of a caring, committed community of believers who enrich my life in ways that outdoor activities can't. From socializing and learning with members of the ladies' book club, to teaching Sunday school, to participating in worship services, to gathering a Christian consensus on current events or personal challenges, my ERPC brothers and sisters in Christ remind me that God is in control—no matter what's happening in my life or the greater world. This eternal perspective enables me to face life with hope and joy.
I was born and raised in Florida, and like every Floridian I wanted to get away from the beach and go to the mountains! My wife Sheree and I moved to Arrowhead full time in 2020 after spending more and more time here each year. I recently retired from a 37-year career as a chemical engineer, supply chain manager, and business/IT consultant. We lived in Texas and Virginia before retiring. Our daughter Lia works for the National Institutes of Health in Washington DC, and our son Andy works for ConocoPhillips in Oklahoma. They both visit us in Colorado much more often and longer than they did in Texas!
ERPC has become our church home. We really enjoy the worship and activities such as Bible Study and look forward to socializing again after COVID. I have enjoyed working with the new A/V System and am very rewarded by bringing the service to those who cannot be here in person. In addition to ERPC I have been volunteering on the regular construction crew at Habitat for Humanity.
My primary activities are biking (mostly road, but also mountain now that I live in mountains) and skiing. I also enjoy hiking, snowshoeing, Nordic skiing, Vail Symposium, and the cultural activities of VVF.


Born and raised in Colorado I was able to spend a lot of time in the Vail Valley. But, it wasn't until 2014 when I was finally able to move here from California that I found both my faith and ERPC. Every day I am amazed at the good works and good hearts of everyone at ERPC. I really do feel that we are journeying together to know Christ's love, and making Christ known. Playing golf, skiing and hiking take up my leisure hours. My partner Sharmon O'Brien and I got engaged while on a trip to the Holy Land in 2019. Unfortunately wedding plans have had to be put on hold during the pandemic. Can't wait for COVID to be behind
us so we can begin
traveling again!
I'm the typical Vail story - come for the winter, stay for the summer… 27 years later I'm still here! I met my husband Tomas in Vail, we've raised our 2 children, Alexander and Lindsay - the Vail Valley is our home.

We had been to a couple of churches in the Valley and even found one we thought was to be our home church - but something was missing. I grew up in the Presbyterain church and was missing the traditions of the Church and the "format" of the Sunday service. While visiting one holiday, my parents actually found ERPC and suggested we try it out. We did and we've never looked back. Pastor Rob's sermon hit home the first day and we wanted more.

ERPC has been so welcoming to our family. We have met new friends and are getting more involved. We went to Israel and Jordan with the church in 2019! An experience we will cherish forever. A trip that brought all the stories of the Bible to real life.

ERPC has a rich history in the Valley that we value. The membership is so diverse - you never know who will be sitting next to you on a Sunday morning and I love that!

Our family is so thankful we have found ERPC - come join us!

I'm Tammy Rodell and I have been attending ERPC since 2006 when a friend invited me to visit. Since that time I have been seeking what my purpose is here, both in life and at ERPC. I have volunteered with the Sunday School, helped with Fellowship, was involved in creating the Journey service, gone on two high school mission trips, was a deacon, and now serves as Missions Elder. I have read the Bible in 90 days. Twice! I have no idea how being a physical therapist qualifies me for this position, but I stand firm in the knowledge that God doesn't call the equipped, He equips the called. I have lived in Colorado since 1998 and enjoy all it has to offer. I especially love camping and fishing with my wife and two boys.
Spiritual Formation
& Discipleship Elder
I love ERPC because of the relationships. When I first moved to the Valley I church hopped for a few years until a neighbor invited me to ERPC. What immediately stood out was the welcoming atmosphere. Church members were happy I was there and wanted to get to know me. I became a member a few months later and since then have found many ways to serve, both in the church through Sunday School and Confirmation and outside the church through Loaves and Fishes meals and missions trips. I love that ERPC is multi-generational. It is a place to grow in your relationship with Jesus alongside others through every walk of life.


My journey to ERPC started with an Irish, Catholic, Democrat father and a Baptist, Republican mother. They taught us love for God and for our neighbors. My kids followed each other from PA to CO after college, and I followed them when a grandchild was added to the mix. For me, ERPC is my third denomination! Here, I find that same faithful love my parents taught us. ERPC Women's Book Club has introduced me to books I love but would probably not have chosen, books that helped me understand myself and my faith better. I have been able to join others for the Fall Festival and to work on a Habitat home, to cook a meal to share, to share reading the Bible straight through, and a variety of activities. Join us- everyone is welcome!
John retired from a 41-year career as a civilian research engineer with the US Air Force in Dayton Ohio, and moved to Wildridge in Avon with his wife, Janet, in 2013. John and Janet then began looking for a new church home; one that offered Biblically-based preaching; opportunities to serve locally; and a friendly, outgoing, and caring congregation. After just a visit or two to ERPC they quit looking (and never even visited others!) John soon became active in Bible study, book club, and serving at ERPC's Wednesday night community dinner. After accepting Christ as his personal savior in 2017, John became a member of ERPC; and strives each day to become a better Christ-follower. He enjoys skiing, snowshoeing, hiking, snorkeling, photography, travel, and daily walks with Jessie, their Goldendoodle.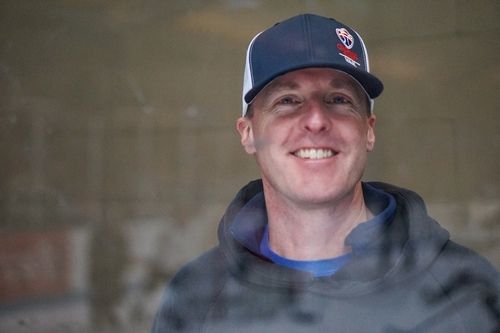 Son, brother, husband, father or friend – no matter my perspective, my life is more richly blessed as a member of ERPC! At ERPC I've been offered a wealth of ministry opportunities allowing my faith to have works. And the ERPC family has provided me and my family with an outpouring of support in times of need. However, personally, my favorite part of being an ERPC member is the nourishing and powerful worship services which are offered in creative and dynamic ways: around bonfires in the snow or on group camping trips; or, in a virtual setting from the comfort of your living room; or, in person in a socially respectful and responsible way. But the message is always clear. We are saved! And we have a wonderful opportunity to journey together in order to know Christ's love and make Christ known to others!

Like many in our valley, we are transplants. From a small Presbyterian church in West Virginia where I grew up, to Lancaster Ohio's First Presbyterian Church where David and I were married, to Philadelphia's First Presbyterian Church where an elderly gentleman showed us his handmade magic tricks he made to share at the local children's hospital, to Hazard Kentucky where the minister who had served as youth minister back in a West Virginia now helped us install new bathroom fixtures in our fixer upper, to Lebanon Ohio where our daughter was born and then baptized at First Pres, to Northville, MI where we were members of First Presbyterian for 37 years and enjoyed being part of the choir, women's groups, golf league where the highest trophy was not for golf score but for being the man you most wanted to play with (David received that honor) a Christian goal, we always found love, encouragement, and acceptance in those congregations. And now we are part of the ERPC family. Our daughter married the love of her life here and our grandsons were baptized here. We have found many opportunities to share Christ's love with our neighbors in the valley, Opportunities to care for, laugh with, and at times, grieve with our church's family, Accepted based not on looks, cultural background, or economic level, we work together as we journey with Christ's love in our hearts to serve others. We remember the childhood hymn, "Jesus loves me this I know..." We as a church share that with our church family and all our neighbors. ERPC is home.
I love our church! It started in 1983 when my husband and I joined and we baptized our first child. The history of our church has deep roots starting in the late 1800's in Red Cliff, moved to Minturn and now resides in Avon as Eagle River Presbyterian. As a Flautist and a music teacher I really enjoy the variety of music at our church. I also appreciate that the congregation is made up of all ages. There are lots of small groups to get involved with. I enjoy the women's bible study and book group. There are also lots of opportunities to help others and to receive help when needed. Our church is a caring community and I'm happy to be a part of this family!

I grew up in this valley attending EPRC with my parents. ERPC enriches my life with the incredible members who always brighten my day! ERPC provides a wonderful community that myself and my family can always turn to for support. Our church provides a place of true peace and comfort that you cannot get anywhere else in the valley. Because it is built to look like a home it feels like a place where you can truly feel at ease. Through college and covid this last year, ERPC has helped me still feel connected to the world and our community. The school was no longer in person but I could always reach out and interact with those at my church. When I tell my friends about ERPC I always try to mention how great the sermons are. Pastor Rob not only brings us closer to God every Sunday, but he also gives therapy and counsel for the everyday struggles we all go through.