Pastor Rob Wilson is a native of the Pacific Northwest and a graduate of Whitworth University in Spokane, Washington. After working as a Case Manager with mentally ill adults, Rob felt a call to vocational ministry and attended Louisville Presbyterian Theological Seminary. Rob served as Director of Youth and Family Ministries in a congregation in Denver, was the solo pastor for 7 years in a rural Washington congregation and arrived at Eagle River Presbyterian Church in 2004. Rob and his wife, Barbara have been married for over 25 years and have four children ranging in age from 14-24.
Executive Assistant
to the Pastor
Membership&
Marketing Elder
I'm the mom of 2 extraordinary kids - Joe 18yrs and Lainey 16yrs. I'm also a wife, married to my best friend, Paul Archer, for the past 21 years. I've lived a very blessed life, and I'm confident that the Holy Spirit has been guiding me the whole way through it! I've been working at ERPC for the past 7+ years. I'm also honored to be the 'Membership & Marketing' Elder. I'm a relentless Seeker of Truth, I love this community and I'm passionate about telling people about God's abundant love; which has given me the gift
of ultimate freedom.
Director of Youth, Family & Small Groups Ministries
Hi, I'm Jordan Shive, and am very excited to be a part of the staff of Eagle River Presbyterian Church. I was born in Huancayo, Peru, was adopted as an infant, and was blessed with a very loving family. I was raised in Green Bay, WI, so I am an ever-loyal Packer fan. I can and will support the Broncos as long as they are not playing the Packers! I graduated in 2013 from Jamestown College with a BA in Fine Arts Music. In 2016 I started working on my MDiv at Fuller Seminary through the online program. I am thankful for this opportunity to serve Christ among you. I'm looking forward to sharing the love of God wherever I can. Philippines 3:20 and Ephesians 4:11-13 have been significant verses in my life. The two passages tell us where our true citizenship lies, and where our eternal rest will be.
Director of
Music Ministry
Sue is from the mid-west, living in Wisconsin, Ohio, and Michigan. However she is a huge Denver Bronco fan! Sue studied music at Hope College in Holland, Michigan. Sue has served as Director of Worship Arts for churches in Kalamazoo and Grand Rapids, Michigan. She also worked many years with Hark Up Ministries in Grand Rapids, Michigan as a vocalist, pianist, and choir director. Sue has found great joy over the years teaching voice and piano lessons. Sharing the love of Jesus has been the heartbeat of her music. Sue is married to David and together they have two sons, two daughters, one son-in-law, five grand dogs, and one very spoiled dog of their own!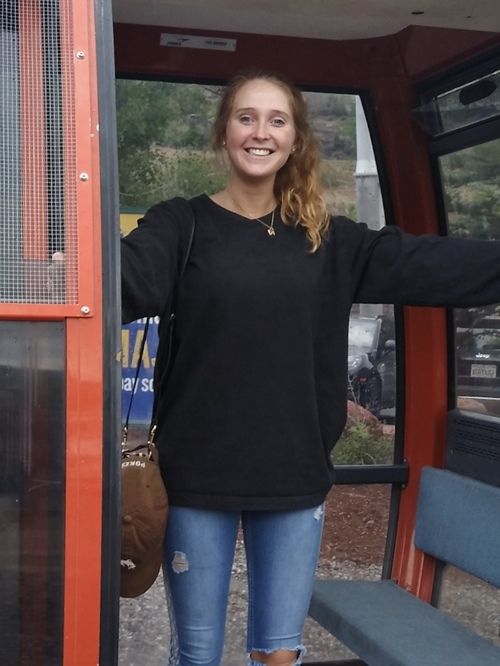 Director of
Children's Ministry

Jaclyn is currently a student at Palm Beach Atlantic University studying psychology. She loves skiing the mountains, the beach, and cooking vegan meals. Growing up with 3 brothers and 2 sisters, family has become one of the most important aspects of her life. She loves to encourage, and build others up through listening to what others are going through. She's excited about her position in Student Ministries and truly has faith in what the Lord will do at ERPC. She can't wait to see how God will lead this church and program through her, and is so excited to build community through children ministries.

So much of what I do in the Eagle River Valley is solitary: fly-fishing, hiking, gardening, driving to golf or pickle ball games. But at ERPC I'm a member of a caring, committed community of believers who enrich my life in ways that outdoor activities can't. From socializing and learning with members of the ladies' book club, to teaching Sunday school, to participating in worship services, to gathering a Christian consensus on current events or personal challenges, my ERPC brothers and sisters in Christ remind me that God is in control—no matter what's happening in my life or the greater world. This eternal perspective enables me to face life with hope and joy.
Tammy Rodell has been attending ERPC since a friend invited her to visit in 2006. She has lived in Colorado since 1998 and enjoys all it has to offer. You've probably seen her helping with fellowship, a youth group activity, Fall Festival, the Journey, or any number of church activities. She has no idea how being a physical therapist qualifies her to be the Missions Elder, but she stands firm in the knowledge that God doesn't call the equipped, He equips the called.
Spiritual Formation
& Discipleship Elder
John began attending ERPC in 2013 after retiring from a 41 year career as a civilian research engineer with the US Air Force in Dayton, Ohio. He became a member of ERPC in 2017; and is active in Bible study, book club, and likes helping at ERPC's Wednesday night community dinner. He enjoys skiing, snowshoeing, hiking, snorkeling, photography, and travel. John and his wife Janet reside in Wildridge (Avon), where they enjoy neighborhood walks with their Goldendoodle, Jessie.